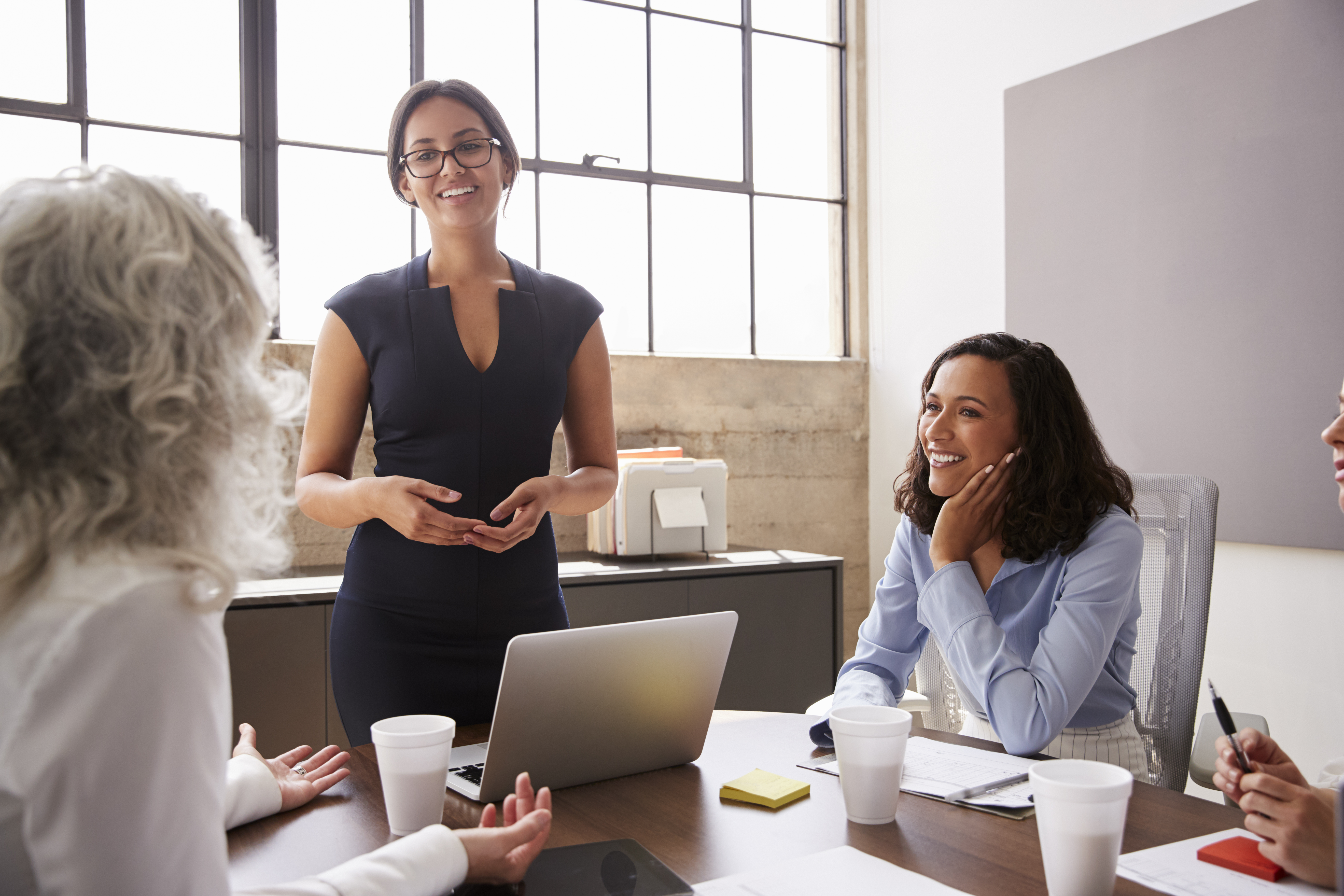 Meet the Latina pros teaching women to close the pay gap by investing
These Latina finance influencers have had different money journeys, but they all have common goals—and foes, including the biggest money challenge facing women today (spoiler: It's investing).
It's not every day you meet a finance professional whose main mission is to help others reach money goals in ways that are true to their roots and authentic to the realities facing women of color in America today. But these Latina finance experts are doing just that—and they're changing the game for women-identified investors in the Latinx community and beyond.
Jannese Torres-Rodriguez of the Yo Quiero Dinero podcast, Natalie Torres-Haddad of Financially Savvy Latina, and Dannielle Romoleroux of First Gen Money have different finance journeys, of course, but they all have common goals—and foes, including the biggest money challenge facing women today (spoiler: It's investing).
Rodriguez is the voice of wisdom behind the Yo Quiero Dinero podcast, which is strategically geared toward the modern Latina. She became an entrepreneur after a sudden job loss allowed her to dedicate more time, energy, and passion into her fledgling Latin food blog, Delish D'Lites. The New Jersey-born Floridian has roots in Puerto Rico, which inspired her to turn her love for traditional family recipes into a six-figure business. 
What's behind the gender pay gap in the U.S.
"History has created systems that funnel women—especially women of color—into lower-paying occupations, undervalue the work that women do, and penalize women for having children," Torres-Rodriguez says. "While these inequities have been magnified by the COVID-19 pandemic, the pay gap is a structural problem. The expectation that women are the primary caregivers in their families—a perception that persists despite the fact that women now make up 47 percent of the labor force—forces women to sacrifice their careers for the sake of their families."
"This was amplified during the pandemic," Torres-Rodriguez adds, "with countless women being forced out of the workforce to care for children who require virtual schooling." The solution? "Business leaders and policymakers must address issues that disproportionately impact Black, Latina and Indigenous [BIPOC] women," she proposes, "such as raising the minimum wage to $15 per hour, making childcare more accessible and affordable, and providing national paid family leave."
How investing can bridge the wealth divide
"BIPOC women are being paid less," Torres-Rodriguez explains. "Therefore, we have less to invest—and many of us also financially support our extended families. We need more disposable income that can then be invested, so bridging the pay gap is an essential part of bridging the wealth gap."
Luckily, "investing is more accessible than ever," she adds. "And with women living longer than men, our overall well-being depends on creating long-term financial security through investing. You can start by downloading an investing app, linking your bank account, and buying securities with just a few taps on a screen. That type of access is unprecedented, so even if you can only start with a few dollars, it's better than doing nothing."
Advice for women just getting started investing
"The major challenges I see often are fear and lack of education," Torres-Rodriguez explains. "Many of us are familiar with what financial struggles look like, but few of us have good models of financial prosperity."
For her part, Torres-Rodriguez herself admits she was uneducated about what wealth-building meant until she was in her 30s. "I started by making a conscious decision to spend a couple hours a week listening to personal finance podcasts," she says. "Eventually, I created my own to add to the conversation, as I couldn't find Latinx voices having these critically important discussions. As a result of this self-education, I'm now on track to be the first millionaire in my family!"
The bottom line? "Don't be afraid to challenge the status quo of what you've been taught about money," Torres-Rodriguez urges. "Find voices that resonate with you, and find people who keep you motivated to grow. Believe that you can be the one to change your family's financial legacy."
Torres-Haddad was born in El Salvador and raised in Los Angeles. She was 10 when the L.A. riots wreaked havoc on her sense of peace, but she realized that education would be the only way that she could contribute to rebuilding the Inglewood community she loved. Two business degrees later, she still struggled with financial literacy. Her TedX talk in Davenport, Iowa explains how she freed herself from insurmountable debt and (spoiler alert) now is a financial literacy educator with multiple books and a bilingual podcast, Financially Savvy in 20 Minutes.
What can be done today to bridge the pay gap
"First, transparency is needed for employees and companies to see the lower salaries that women, Latinx, and BIPOC are being paid," says Torres-Haddad. "Secondly, underpaid staff need to see the real value of self-worth and must be able to ask for more by negotiating for higher wages. Groups with more privilege can be advocates and allies by speaking up for their more vulnerable colleagues who are facing structural barriers. Last, there is a lack of laws and requirements in place in the country to help protect BIPOC and Latinas. For example, California was the first state to require boards to have at least one woman; if not, the company is fined. We need more enforcement mechanisms like this."
How investing can bridge the wealth divide
"At an early age, I knew education would help me learn how to invest better as a first-generation student in finance and international business," Torres-Haddad notes. "I may have not learned everything about personal finance, but I did learn that investing in real estate and other investment vehicles at an early age would increase my passive income, thanks to compounding interest over time. Investing in real estate was a way to not only close the gap quickly, but it created more financial opportunities than most traditional investments."
In Torres-Haddad's finance workshops, she asks women whether they consider themselves investors. "The majority say 'no,'" she explains. "Then, I rephrase the question to, 'how many of you have ever given money to family, a charity, or invested time in your community?' Almost always, every single hand goes up. Now that they realize they are investors, they can change their mindset and realize that they can also be investors in the stock market, in real estate, in start-ups, and so forth. Many times, it is only when a woman gains some profit (no matter how small) that she gets the 'aha' moment."
"Specifically, Latinas are the largest growing ethnic group in the U.S., and we can target multiple markets for investment—based on language and culture," Torres-Haddad continues. "There is a joke that says that Latinx people have been social long before social media. What that means is that we prefer to be recommended and referred to work with companies and people we trust. More Latinas are becoming more vocal and creating new platforms, products, and services to address global problems."
Who are Torres-Haddad's business icons? "Women should leverage the expertise of Latinas like Ana Flores, founder of We All Grow Latina, and Jessica Alba, founder of the Honest Company," she says.
Part of my wealth journey that many people don't know
"As the eldest daughter and an immigrant refugee from El Salvador, I have seen and felt the pressures and responsibilities of taking care of loved ones," Torres-Haddad explains. "Many of us don't come from money or have generational wealth. Our families still depend on us. We still try to be seen as an equal, but we face challenges. First-gen college graduates often lack financial support from parents, have to care for elderly family members, and take language classes. English may be not be our first language, and not the primary language spoken at home."
But that hasn't stopped Torres-Haddad from pushing past linguistic, cultural, and financial barriers—so that she can teach others to do so too. "I have taught thousands of students across the country and around the globe that our student debt or credit scores do not define who we are," she says. "It is just part of our journey to making better financial decisions. My journey has allowed me to help so many other Latinas start investing in real estate, start businesses, start podcasts, create new content, and dream big. My business recently expanded a pilot program teaching financial literacy to middle schoolers, by getting them involved with The Savvy Trailer recording podcast studio. I am committed to making sure that financial literacy becomes a universal language and not a foreign language. We all deserve to have financial options and debt freedom. Taking financial control over our lives is also a major part of mental health advocacy."
Romoleroux is a Jersey girl who coaches first-generation Latinas in building generational wealth. Both her parents are Ecuadorian immigrants to the U.S. who worked in blue-collar jobs. When she found herself navigating college and financial aid alone, she knew that she'd apply her lessons learned to make sure that other first-gen students don't make the same costly mistakes. In 2015, she graduated college with $30,000 in debt. By December 2019, she made her last payment and never looked back. 
How my investing journey started
"I grew up learning about one type of investment: real estate," Romoleroux explains. "But it wasn't until my first full-time job out of college that I heard about investing in the stock market and, specifically, my company's 401(k). I waited to invest because I wasn't sure what that meant and how my money was making money. It all sounded risky, and I'd grown up hearing that it was like gambling at a casino. It wasn't until I started listening to podcasts on personal finance that I became more comfortable with my money and I started taking small steps. One of the small steps was tracking my spending, which helped me realize where my money was going, what emotions were tied to my purchases, and where I could improve. Then I opened a Roth IRA using a Robo-advisor, because I didn't want to wait until I had learned everything before I actually started doing something."
How to get started investing
Step one is simply talking about it. "I would always encourage Latinas and other underrepresented groups to discuss money, which can be taboo," says Romoleroux. "If appropriate, ask colleagues or peers within your industry about their salaries. Understanding what others are making is essential to understanding how underpaid you are. Latinas are losing over a million dollars in our lifetime due to the wage gap. Saving that money in a bank account won't get you very far, but investing can help. I suggest starting with the investing accounts you might already have access to, like a 401(k)/403(b) or Roth IRA."
Hidden economic opportunities that Latinx people should seize right now
"The Latinx market in the U.S. continues to grow. Right now, if we were our own country, we would be the eighth largest economy in the world," Romoleroux notes. "More of us are going to college and then entering the labor force. That is a huge opportunity to know the market. Essentially, we are the market—and we can create products for our community. This also means that companies need to listen to us as we continue to grow."
"As we become the first in our families to join the corporate world or start building wealth, we also need to confront our added responsibilities—like helping support our family, being our parent's retirement plan, or simply not knowing how to actually build wealth because we haven't been taught," Romoleroux continues. "I'd recommend talking to family, especially youth and adolescents, about money. It is important to share what you are learning about investing or personal finance, but also to set clear boundaries with those who depend on us."
This article was written by Nafeesah Allen from Real Simple and was legally licensed through the Industry Dive publisher network. Please direct all licensing questions to legal@industrydive.com.