4 Digital Tips to Help You Stay on Top of Your Retirement Account
As technology continues to evolve and make our lives easier, the importance of cybersecurity continues to grow. Companies that actively implement cybersecurity practices understand how to properly protect sensitive information and limit the exposure of this information if a breach does occur. Voya recognizes that cybersecurity is essential to building relationships and maintaining trust. While Voya is committed to doing its part, we also feel that maintaining the proper protection is a shared responsibility. Learn more about Voya's commitment to customer security and the actions you can take. In addition, consider these tips to help you digitally stay on top of your account and savings progress.
We get it. Logging in to manage your retirement account online isn't exactly always top of mind with everything else that needs your attention. Consider these tips to help you digitally stay on top of your account and savings progress.
Tip #1: Use your mobile device
You can view and manage your account everywhere you go on your iPhone®, iPod touch® and Android™ devices* using the Voya Retire mobile app. Just sign into your account online at least once, then download the app at no charge directly from the App StoreSM or the Google Play Store for Android™ devices (keywords: Voya Retire).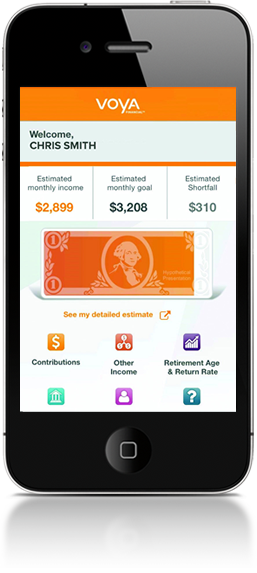 The mobile app allows you to handle account transactions and check current balances, balance history, balances by asset class and fund, fund performance, your personal rate of return and more.
Tip #2: Visualize your savings progress.
You can see how your account translates into estimated monthly income in retirement when you engage with the myOrangeMoney® interactive educational experience every time you log in. myOrangeMoney® is designed to help you picture when you'll have enough to retire. A dollar bill graphic represents the estimated retirement income you'll need each month. It shows the progress you've made toward your income goal so far, based on how you're saving and investing in your account now.

Check your progress regularly. If you're falling short of your retirement income goal, you can use myOrangeMoney to try out different saving and investing scenarios. You'll discover the impact on your estimated future income instantly before you make a decision. When you're ready to change your contribution level or investments, you can take action, right then.
Tip #3: Read your account statements.
Consider your account statement a progress report on your investments' performance and how much you have accumulated for your future. Each statement contains valuable information that can help you:
Manage your investments.
Monitor your account balance.
Keep track of fund transfers and other account activity.
A good rule of thumb is to think of your statement's arrival as your reminder to review how much you're contributing, your investments and beneficiary information and make any necessary changes.
And if you haven't already done so, consider signing up for electronic delivery of your statements and other documents to get them straight to your email inbox. That way, checking in on your progress is just a few clicks away.  
Tip #4: Protect your account information.
You can help keep your account information confidential and reduce the risk of potential financial harm due to identity theft by taking these precautions.
Monitor your account frequently. The website for your employer retirement plan account and the Voya Retire mobile app make it easy.
Open statements and transaction confirmations immediately to verify all activity on your accounts, such as contributions, withdrawals, and transactions.
Change your password regularly. Use a unique password that's a strong mix of upper and lower case letters, numbers and special characters. Avoid writing down or emailing passwords or PINs and never share answers to security questions with anyone.
Take care of your computer and mobile devices. Install the latest operating system, patches, and antivirus and antispyware software.
Products and services offered through the Voya® family of companies. Important: The illustrations or other information generated by the calculators are hypothetical in nature, do not reflect actual investment results, and are not guarantees of future results. This information does not serve, either directly or indirectly, as legal, financial or tax advice and you should always consult a qualified professional legal, financial and/or tax advisor when making decisions related to your individual tax situation. *iPhone and iPod touch are trademarks of Apple Inc., registered in the U.S. and other countries. App Store is a service mark of Apple Inc. Android is a trademark of Google Inc.